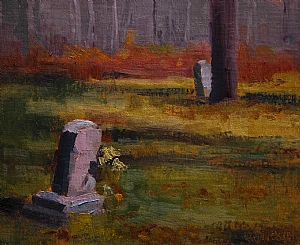 The Mystery of Maritta Leach
oil on linen, 8 x 10 inch
copyright 2010 MaryAnn Cleary
This past week a friend and I did some exploring for possible painting sites to do on location. We met near Duluth in Carlton, MN and headed to Jay Cooke State Park. Our first stop, an old pioneer cemetery, located about a mile from the park visitor's center. A short hike up a few wooden stairs and we found ourselves in an open meadow surrounded by old maples, oak and poplar trees. Greeting us at the top of the stairs stood and old headstone with a small American flag placed beside it. Looking out into the clearing, one could see a few, still-standing, old and tilted headstones along with several sunken areas of unmarked grave sites.
The grave sites, many well over or near 150 years old, had been left to the elements of time, sinking unnoticed into the ground. One of the few still identifiable is that of Maritta Leach. The story of her ending engraved on her tilting stone. She died almost 150 years ago on July 3, 1862 at the age of seventy. Questions begin to percolate within me. Who is this Maritta? It said on the headstone that she is the wife of W.C. Leach. Did she have children? Where did she live? What did she do? She had to be tough to live to the age of seventy during the mid-1800s.
One area of the cemetery seemed to contain an entire family with several children living only a month or two. The Ottos. Looking at the dates and the inscriptions, a father died and a couple of months later his 38 year old son passed, too. So many questions without answers arise. One can only speculate what happened. Sickness. Consumption. Or some other unknown.
The cemetery is a peaceful place and has a nice energy flowing around it. The sun hit the grave sites casting mysterious shadows - a perfect place to spend the afternoon painting.
The journey of an artist, especially those of us who enjoy painting on location, is finding those areas that have more questions than answers. They give inspiration. The head stone of Maritta is a glimpse of that delightful day of my explorations as an artist on location.