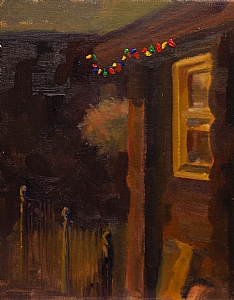 Romayne's Bling
nocturne oil painting
size: 10 x 8 inches

The last couple of weeks were a bit intense with surviving two weeks of plein air painting workshops along with a week of hot, humid and intense Minnesota summer weather. One evening in Taylors Falls, MN, as part of our workshop, we all met to attempt doing a nocturne painting. If you have not tried this type of painting and are a painter, painting in the dark can be quite a challenge - especially without the help of a full moon. Even though we use small lamps that clamp onto the easel to enable one to see the canvas and the paints, it is always a surprise to see them in actual daylight after the painting is completed. One never really knows if the colors work or not. I love painting at night. I love the challenge. I am always surprised by the wonderful colors seen at night from the reflective lights and how little black there is.

"Romayne's Bling" is a painting done while standing on the main street in Taylors Falls, MN. One of the buildings at Romaynes Sports Bar and Grill has a small out building decorated with Christmas tree lights. Hanging in front of this building is a large basket of flowers. What made this painting for me was the "bling" on the building, the wonderful colors of the Xmas lights. Light reflected onto the window of the building and cast eerie shadows from the street lights and lights across the street. I love the bling of the dangling X-mas lights....my favorite part and to me what makes the painting.

Coming up next....studies in black and white.